Click here to see our current schedule.
Primary medical care is available Thursdays, 9:00am-1:00pm and 2:00pm-4:00pm
Primary medical care is available on-site at Clackamas Service Center, through our partner non-profit, Outside In.
We recommend arriving as early as possible to schedule an appointment as Mobile Medical Outreach appointments at Clackamas Service center are walk-in only and on a first-come, first-served basis.
In order to access medical care from Outside In, you must not be receiving primary care from another provider. As a Federally Qualified Health Center, Outside In does not turn anyone away for lack of coverage or inability to pay. If patients are uninsured, Outside In will work with them to get their medical needs met, including providing assistance with enrollment in the Oregon Health Plan (OHP). Restrictions apply to those with Kaiser insurance plans, though our team may be able to assist in plan changes for those interested in making Outside In their primary care home.
Outside In provides a full range of health services for youth beginning at age 13 and adults of all ages, such as disease management, routine primary care, HIV/STI testing, women's health care, mental health, and transgender care. Outside In is committed to building relationships with their patients and to ensuring that everyone is cared for, respected, and receives the medical treatment that they deserve.
Following current COVID-19 guidelines, OHP enrollment assistance will be conducted over the phone. Please call an Outside In enrollment specialist at 503-583-6659 for help with a new application, to check on the status of a submitted application, or to renew your Oregon Health Plan coverage.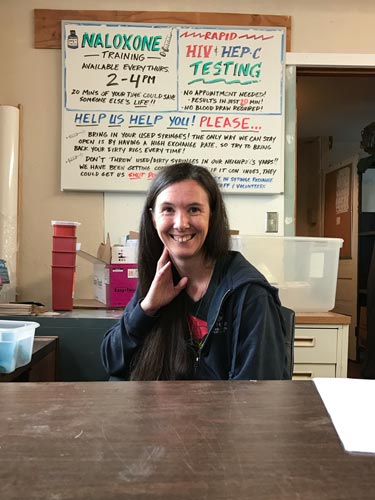 During the COVID-19 pandemic, needle exchange is available Tuesday and Thursday, 1:00pm-4:00pm

Needle exchange is a free and anonymous harm reduction service provided by our partners at Outside In. Anyone 18 or older can access needle exchange, regardless of OHP status. In addition to providing new and safe injection supplies, Outside In program staff can administer tests for HIV and Hepatitis C, and train you to administer Naloxone to someone experiencing an overdose.
---
During the COVID-19 pandemic, Clackamas Service Center is not hosting Medical Teams International (MTI) emergency dental clinics. MTI continues to serve other locations. Please reach out to MTI, or speak to a CSC staff member to learn about upcoming dental clinic locations near you.
MTI's free dental clinics are equipped to address urgent dental needs, and their dentists and staff perform tooth extractions and some fillings. Their professionally equipped portable dental office visits sites all over the Portland metro area, including Clackamas Service Center.
---
---