Showers

Available Tuesday and Thursday, 10:00am to 1:00pm
Everyone deserves the dignity of being able to care for their personal hygiene. Our portable shower cart has two separate shower rooms, where each visitor can take a hot shower in complete privacy. Everyone who showers at CSC is provided with a clean towel, washcloth, shampoo, conditioner, and body wash. Razors, combs, and a change of clothes, including new socks and underwear, are also available to anyone who wants them.
In order to allow as many people as possible to shower, you will be asked to limit your time in the shower facilities to 15 minutes. If you are concerned about your physical ability to undress, shower, and get dressed in this timeframe, please speak to a volunteer or staff member.
Showers are first come, first served.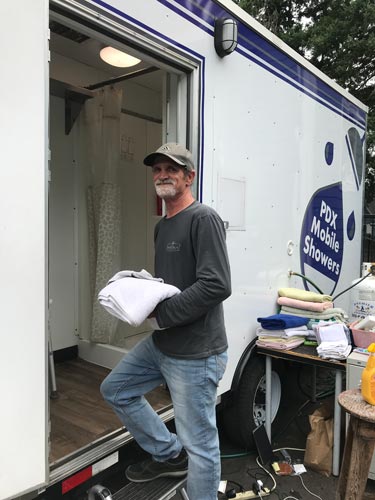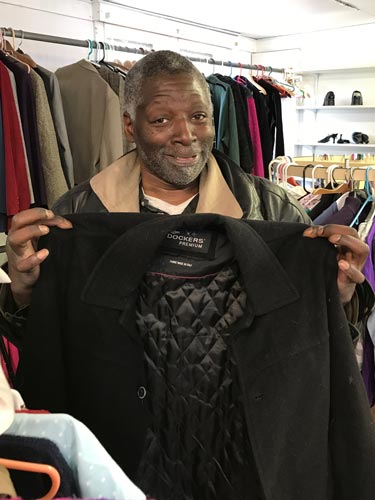 Clothing & Housewares
During the COVID-19 pandemic, clothing and housewares are available by request:
Tuesday, Wednesday, and Thursday, 1:00pm to 2:00pm, during lunch service

Tuesday and Thursday, 10:00am to 1:00pm, while taking a shower at CSC

Weekdays, 9:00am to 5:00pm, while requesting a grocery delivery (requested items will be delivered with your food boxes)
Due to the COVID-19 pandemic, our clothing room is closed to visitors, but you can make requests for specific items during weekday lunches, while you are at CSC for a shower, or when you request a grocery delivery.
We rely on donations to supply much of what is available in the clothing room, so the availability of items varies widely based on recent donations. Items that can often be found in the clothing room include: socks, underwear, pants, shirts, dresses, coats, shoes, backpacks, blankets, sheets, pillows, towels, sleeping bags, tarps, and tents. Other household items, including pots, dishes, utensils, and other items are sometimes available. Please be as specific as possible when requesting items, so we are able to get you what you need.