An update from our Elementary School partnerships
Early in the pandemic, we began bringing a truck full of food to Lot Whitcomb and Oak Grove Elementary Schools for parents and guardians to pick up, and we haven't stopped since. Both schools have high numbers of students eligible for free lunch, so we knew that food insecurity likely impacted many of these kids at home, too.
This program was made possible because of funding from grantors like Providence Health & Services and Nourishing Neighbors (aka the Safeway and Albertson's Foundation) and from supporters like you.
Our school programs are run by our school outreach manager, Celess Roman. Her friendly, approachable demeanor and fluency in English and Spanish has built meaningful relationships with the kids and families at both schools.
Last week, some of the kids at Oak Grove Elementary gave Celess adorable handmade cards to say thank you, and they brought us so much joy, we just have to share them with you: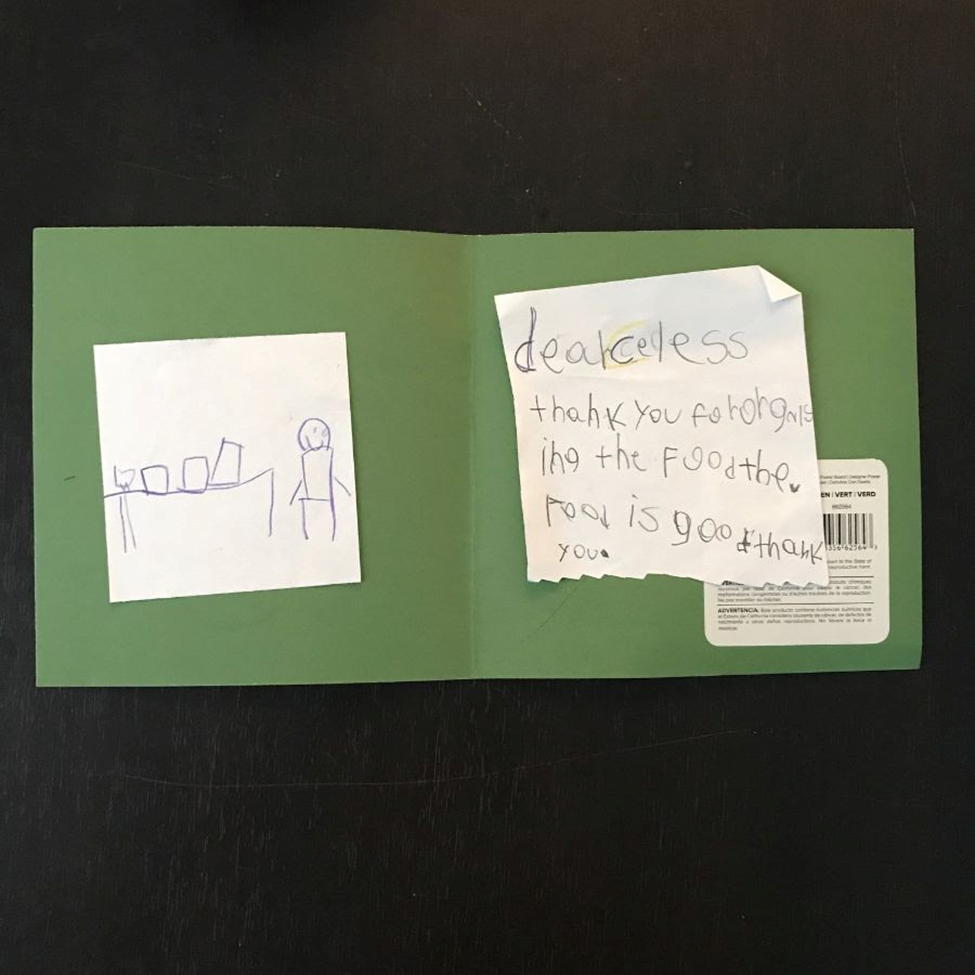 Helping kids focus in class
With your help this year, we've found more ways to help young learners. Early in the school year, we heard from educators at Oak Grove Elementary that many students were struggling between meals. Kids were too distracted by hunger to focus in class.
We've helped prevent hunger in Oak Grove classrooms since October, by gifting a stockpile of healthy snacks to the school each month. Friends like Clackamas Federal Credit Union, and a local doctor known only as "the Snackmaster," have also stepped up with regular snack donations.
Enriching the holiday season
We wrapped up the last few weeks of the year with kids coat distributions in November (funded and assisted by Clackamas Sunrise Rotary and with support from the Wichita Center), we supported Winter Blitz last weekend by contributing several tons of food (including dozens of hams and turkeys), and we gave away over 600 toys shared with us by Clackamas Fire District #1.
Here are some families picking up toys on Thursday, at our last school distribution event of the year:
You may have noticed a theme in this letter and in our work – that in all we do, we rarely act alone. It's our partnerships with other organizations, businesses, grantors, and people like you that make everything possible.
Happy holidays to all who celebrate, and thank you for all you do to support families and kids in our community!